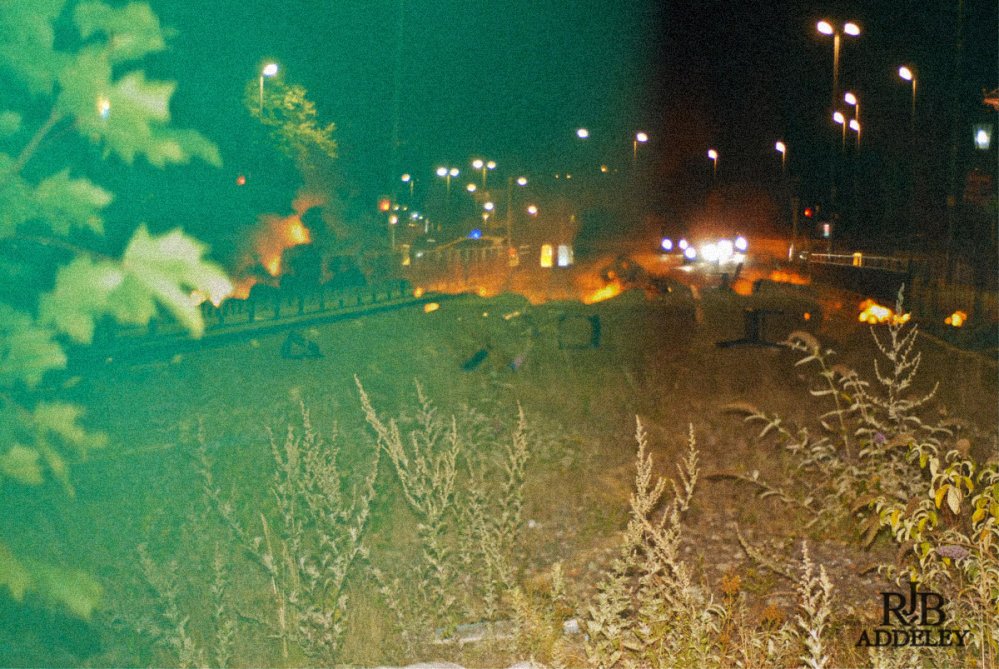 Of Unrest, C-Type Combination, 2011/2013
Even a 'bad' photograph has temporal/spatial ergo historical/historic data that ceases existence when it is dragged to the recycle bin.
8th/9th/10th July 2011 – the streets of Birmingham were subject to unrest precipitated by the shooting of a man in London. After two and a bit days of photography in a city in tumult, the result was a small series of images, along with a number of leftover images deemed 'lacking in functional value'.
If results don't match up to intent, one can feel compelled to banish the evidence to the great digital trash-heap in the clouds. Leftovers that do not fit the main series – they lack content or context, are blurred, are under/overexposed, are grainy as a pointillist daub.
Looking at rejected images from those days of unrest, peripatetic moments jump out that seem worthy of record: A group of teenagers and men ransacking The Barton Arms pub before firing a handgun at police.  Grainy, sodium-lit images of these hooded figures mid-mania portray a particular moment from an individual perspective, making unique records of the event, but not objects of functional value.
In an effort to salvage functional value from these images, a process of image combination – comparable to a journalist amalgamating manifold sources – was developed. These combinations attempt to strengthen and subvert the solitary originals. They tell of events that did and did not happen.
Further, the process is an attempt-to-express and an attempt-to-resolve dichotomous thoughts experienced during the events – on one hand the adrenalin; fascination at the visible playing-out of events – on the other, anticipatory angst; the witnessing of an apparent crumbling of societal foundations; bewilderment from the sheer chaotic surreality of it all.
As the saying goes: 'It was like something off the telly.'
PS Upon completion of this article I switched on the telly to be immediately greeted with a programme about 'Operation Mincemeat' – a 1943 British Naval Intelligence operation that aided in convincing German high command that Allied forces planned to invade Greece and Sardinia, rather than Sicily. In its execution, the operation required the dead body of a suicide victim to be dropped in the sea off Spain by a British sub – his pockets filled with documents created by MI5 that falsely substantiated his identity as a British Navy officer, and delivered strategic plans (peppered with misinformation) along with a fake love letter and photo from his 'sweetheart.